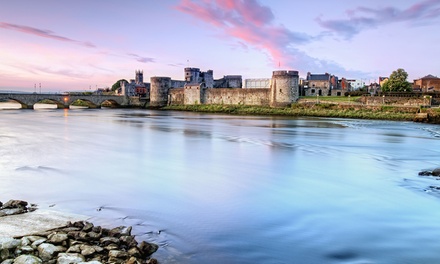 Ireland Vacation. NYC, BOS, ORD, SFO, DFW, IAH, LAX. Price/Person, Based on Two Guests/Room. Buy One Voucher/Person.
Book by 3/5/20 or promo value expires. Limit 1 per person, may buy additional as gifts. Reservation required, inclusions/airfare/airline subject to availability. Additional fees may apply for some departure dates. All cancellations are subject to penalties unless Great Value Vacations' Travel Protection Plan is purchased. The Travel Protection Plan costs 9% of trip cost (including add-ons purchased at time of booking). Please refer to Great Value Vacations' Terms & Conditions for more details. https://www.greatvaluevacations.com/travel/terms-and-conditions Airfare nonrefundable after booking. Must be 18+ to check in. Credit card required at booking and check-in. Baggage fees may apply and vary by carrier. Airfare includes carrier and government taxes & fees. Not all tours are handicapped accessible, please contact Great Value Vacations at (800) 495-4903 to confirm. A passport is required for all travel outside the U.S. Check the State Department's website for entry/exit requirements. City taxes not included.
From castles to costal views, travelers can see it all at their own pace on this independent vacation throughout Ireland's countryside
Great Value Vacations: 110,000+ of our travelers served since 2011
Ireland Vacation
Flights & Transportation:
Round-trip airfare from

New York (JFK)
Boston (BOS)
Chicago (ORD)
San Francisco (SFO)
Dallas (DFW)
Houston (IAH)
Los Angeles (LAX)

Manual economy car for the duration
For additional departure airports/pricing, contact Great Value Vacations at (800) 495-4903.
Airline & flight times determined at time of booking
Hotels for 6-Night Vacation (6 nights + 1 overnight flight)
Hotels for 8-Night Vacation (8 nights + 1 overnight flight)
Hotels for 10-Night Vacation (10 nights + 1 overnight flight)
Ideas for Your Vacation
Explore the land of Guiness, greenery, and great writers on your own terms with this trip provided by Great Value Vacations. Here, Dublin is not the focal point of the options of trips to choose from. Rather, guests gallavant through Waterford, Limerick, and Wicklow to Ireland off the beaten path. From castles and coasts, travelers will have plenty to see and do without the stress of planning the hotels and flights.
Hunt Museum: Amid Bronze and Iron Age relics, you'll find a silver coin that's said to have been among the 30 piece paid to Judas for his betrayal of Jesus.

Dublin Castle: Tour this 13th-century Gothic castle to see former viceroys' apartments, one of the city's oldest medieval towers, and the remnants of a 1,000-year-old viking fortress.

Giant's Causeway in Sligo: Hike over more than 40,000 basalt columns that look like giant stone blocks alongside the sea. Legend has it the natural wonder was forged by giants thousands of years ago. Today, it's a UNESCO World Heritage Site.

Literary connections: A two-hour Angela's Ashes–themed walking tour includes stops at several places mentioned in Frank McCourt's memoir, including Windmill Street, Leamy's National School, and South's pub.
Call Great Value Vacations at (800) 495-4903 for Questions About:
Flying from any airport not listed here
Extending your trip or traveling on dates not listed here
The availability of your desired travel dates
Traveling with kids; all travelers age 2 and over are required to purchase a voucher
Booking optional tours and upgrades
Expired On March 5, 2020