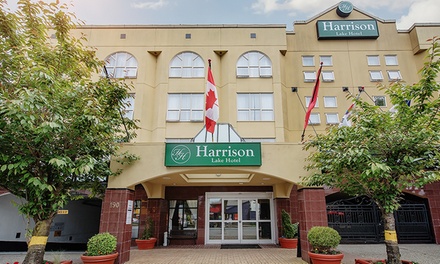 Stay at Harrison Lake Hotel in Harrison Hot Springs, BC
Cozy hotel in Harrison Hot Springs With complimentary parking, and unlimited access to the public hot springs pool during your stay.
Hotel at a Glance: Harrison Lake Hotel
Harrison Lake Hotel sits at the southern tip of Harrison Lake, near sparkling blue waters and the snowcapped mountains of southern British Columbia. The hotel is just 2 hours from Vancouver, but the pristine surroundings feel a world away. Conveniently located in the village, the hotel provides easy access to the area's acclaimed mineral springs and spas.
Hot springs public pool is just a short walk away.
Onsite dining: Courtyard Café is featuring a new menu servicing breakfast and dinner daily
In-room amenities: refrigerator, microwave, a 32-inch LCD TV, and free WiFi
Harrison Hot Springs, British Columbia: Mountain Views and Adventure on Harrison Lake
Visitors have been seeking out the healing powers of Harrison Hot Springs since the 19th century, when European settlers stumbled on the site located about 80 miles from Vancouver. You can access the mineral-rich water from a public pool fed by two different springs at the south end of Harrison Lake. Of course, there's more to do in town than soak. The lake is a popular spot for kayaking, paddleboating, and fishing; the surrounding mountains offer plenty of hiking opportunities. In winter, you can hit the slopes at Hemlock Resort, situated about an hour outside of the village. Just north of town, Sasquatch Provincial Park features several pocket lakes scattered amid a lush forest.
Expired On March 11, 2020