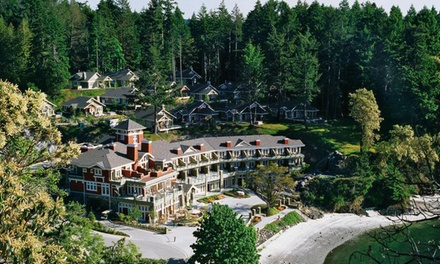 Stay with Spa Access at 4-Star Poets Cove Resort & Spa in Pender Island, BC
4-day cancellation notice required prior to check-in or reservation is non-refundable; reservations made within cancellation window are non-refundable. No-shows will be charged total Groupon rate. Traveler name must match ID at time of check-in. No refunds will be processed by Groupon after check-in. Must be 18+ to check in. Credit card required at check-in. All prices and charges listed in CAD Dollars. Purchases are in CAD Dollars. Foreign exchange fee may apply. Dates cannot be changed once booked; valid only for night(s) purchased.
4-star Waterfront resort and spa with seasonal onsite dining and rooms with private balconies and TVs; gorgeous mountain and water views
Property at a Glance: Poets Cove Resort & Spa
Water and fire are typically believed to be polar opposites, incapable of coexisting. But they thrive together at the 4-star Poets Cove. The island resort is right on the water, and its lodge rooms have views of the lapping waters through west-facing windows that frame blazing sunsets each evening. After sundown, you can stay warm in front of the flames of your in-room fireplace (select rooms).
If it floats your boat: Poets Cove's marina ranks as one of the best in the Western Hemisphere.
Water, water everywhere: In addition to the harbor, the resort has one seasonal and one heated pool, as well as a hot tubs.
In-room amenities: Each lodge room is equipped with a balcony, soaking tub, glass-enclosed shower, and TV.
Never go hungry: Grab a table for breakfast at Aurora restaurant and lunch or dinner at Syrens Bistro and Lounge.
Added perk: Guests get access to the Susurrus Spa, where they can enjoy treatments like massages, facials, and body wraps.
Friend to the earth: An onsite garden full of local herbs and produce are just a couple of things that helped the hotel earn the Green Key distinction.
Pender Island, British Columbia: Gulf Island Between Victoria and Vancouver
Pender Island sits in the Salish Sea, conveniently located between Vancouver Island and mainland Vancouver. Its main two locales are North Pender and South Pender, which are separated by a canal. A narrow bridge connects the two sides. Though the island is small, it has all the beautiful features that attract visitors to British Columbia: clear lakes, rugged coastlines, and spectacular wildlife. From May to October, you can cruise through nearby inlets and see orca and humpback whales, as well as seals, sea lions, and dolphins.
Expired On March 13, 2020